---
---
Industrial demineralization
Expert Water
IMA CONCEPT offers in Romanian and in European market systems of industrial reverse osmosis of any size being a local manufacturer with CE and ISO certification. The systems are delivered from the own stock in the shortest possible time in all the countries from the Europe.
Our team of technicians, sales managers and engineers will advise and help you to implement the systems from zero.
Industrial reverse osmosis systems can be used in almost any kind of applications from domestic applications to industrial manufactory as:  the auto industry, glass industry, chemical industry, drink and food industry etc. The reverse osmosis process results in a reduction of up to 95-99% of water conductivity or TDS and the results is a demineralized water. This means that from 100 ppm TDS after the reverse osmosis module we will remain with between 5 and 1 ppm depending on the water quality, ph and water temperature.
Systems that use the process of industrial reverse osmosis have become increasingly popular lately due to low operating costs and ease to use.
Before to install a industrial reverses osmosis is mandatory to know the water analysis for choosing the best option for prefiltration. Industrial reverse osmosis systems have osmosis membranes that filter at a fineness of 0.001 microns and cannot be used with water that has limestone and iron. For this reason, an industrial reverse osmosis system is always preceded by a softening / deferment system or is equipped with an antiscalant in the case of high flows.
Why buy an industrial osmosis system from IMA CONCEPT?
Each delivered system is tested by ourselves, with water, to ensure 100% the right operation and to remove any possible manufacturing malfunctions .
Industrial reverse osmosis systems are designed by a team of engineers together with chemists
Training and technical support are ensured
The systems are designed according to the needs of the location and the characteristics of the water.
 The system of industrial reverse osmosis has included:
mechanical pre-filtering
osmotic membranes
pressure pump
conductivity monitor
electric valve
low pressure switch
optional controller
flowmeters and pressure gauges
recirculation function for any system
Types of Industrial Reverses Osmosis
Industrial reverse osmosis systems are chosen according to several things like:
Flow rate (50 - 50 000 liters / hour) (on request any kind of systems can be built)
Type of feed water (Soft - Brackish - Sea water)
Percentage of water recovery (50 - 90%)
Percentage of salt retention (95 - 99.5%)
Pressure operated or external storage systems.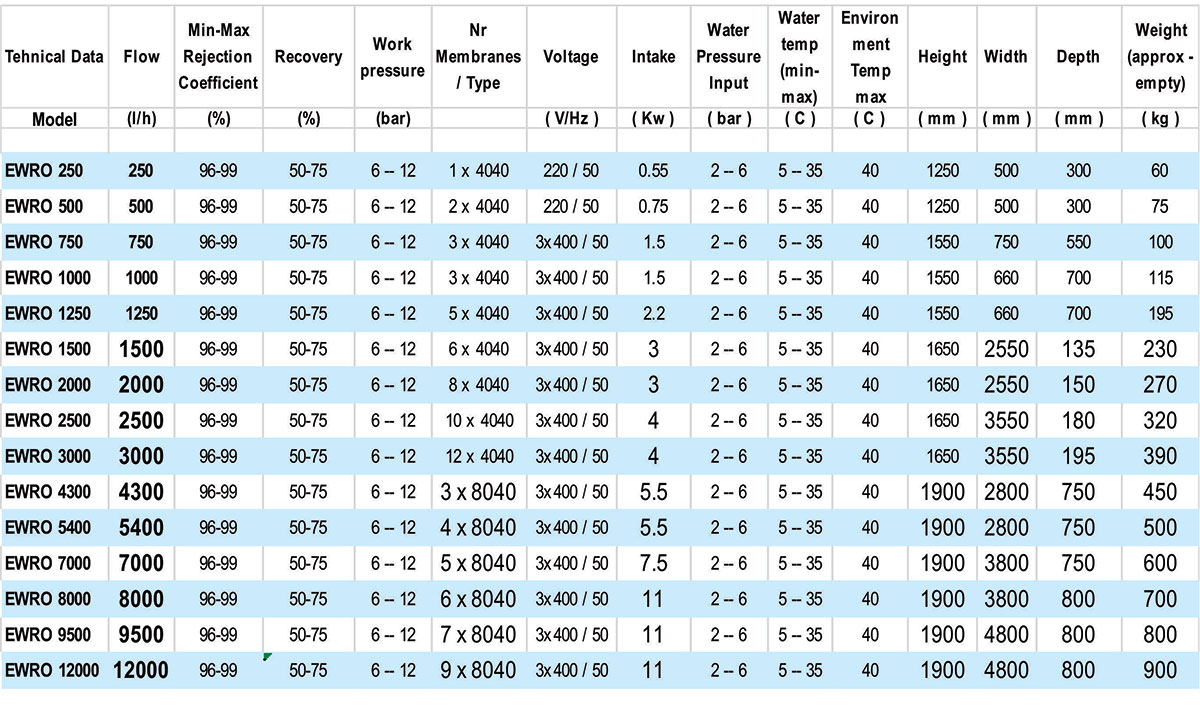 Industrial osmosis EWRO 250 l/h

Industrial osmosis EWRO 500 l/h

Industrial osmosis EWRO 750-1000 l/h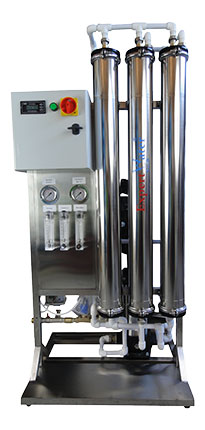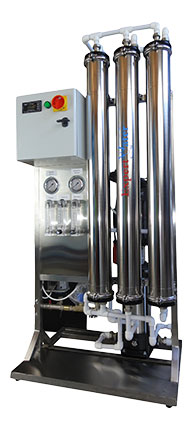 Industrial osmosis over 1000 l/h

Contact us for a water treatment offer
---